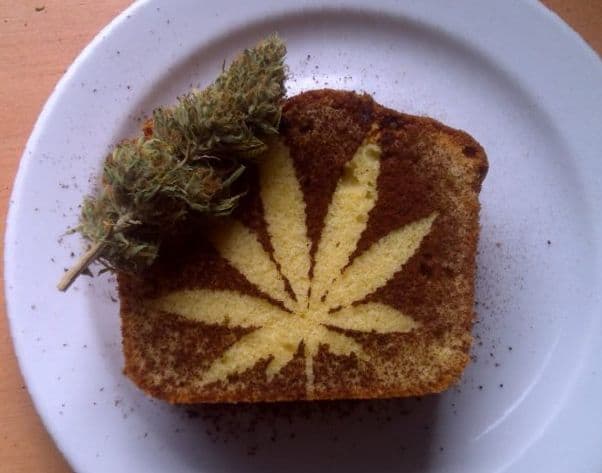 Top 5 CBD Cake Recipes for 2022
If the

CBD

(cannabidiol) has been a real success for a few years in France, it is mainly for its recognized relaxing virtues and its unusual taste but not only. Indeed, CBD is a legal molecule in countries open to CBD cannabis. It can be consumed in many ways.
Cannabis has long been reserved for pot smokers who had their network to obtain this illegal raw material. But today, in France, thanks to CBD cannabis meeting the legislation, everyone can have access to legal marijuana. It can be found in all sorts of forms (liquid for electronic cigarettes, hemp flowers, oil, capsules, balms, etc.). The result is a democratization of its consumption by giving free rein to the imagination. This cannabis allows in particular to realize greedy recipes of cakes and this, thanks to its exceptional and varied organoleptic qualities.
The cannabis cake has its own name
Former pot smoker, occasional weed user, rave party enthusiast or even curious about cannabis in all its forms, the term "space cake" should not seem foreign to you!
For some it is a particular culinary preparation. For others, just a term heard somewhere. In reality, the space cake is the name given to a cake made with cannabis. There is not 1
recipe
of space cake but MANY recipes! Indeed, this qualifier is just to indicate the presence of cannabis in the preparation!
These cakes are made :
directly with

hashish

(cannabis resin)

from Marrakech butter (name given to butter made with marijuana)

with crumbled grass

with oil extracted from the hemp plant
Whatever the technique, these cakes are very popular with cannabis users. On the one hand for the long and deep effects they provide. On the other hand, because they allow you to feel the benefits gradually over time.
An ideal product to spend an evening with friends as well as to enjoy your day.
Amsterdam cannabis cake
In the Netherlands, and especially in Amsterdam, space cakes are very famous among cannabis consumers and many coffee shops offer in their windows these so special cakes so appreciated. From the cookie to the brownie, through more specific recipes (birthday cake, buttercream, …), the whole universe of pastry is possible. Since classic cannabis is decriminalized in Amsterdam, these space cakes are full of THC and promise hours of guaranteed euphoria! However, it is quite possible to make these same cakes with CBD marijuana and thus to offer equally delicious products with relaxing properties in European countries open to cannabidiol.
The butter of Marrakech
Marrakech butter or cannabis butter is a very useful preparation to replace the classic butter in recipes. Very simple to manufacture, it will be necessary however to respect the stages of preparation in order to preserve the specific compounds of the cannabis plant (cannabinoids and terpenes in particular). The dosage of the ingredients is given as an indication and can be modified according to the desired effects. Indeed, if the THC is concentrated in the flowers mainly, the CBD is also very present in the sheets. It takes about 1 gram of cannabis for 5 grams of butter:
Decarboxylate the cannabis to help extract its active ingredients: crumble the weed and put it in the oven for 45 minutes at 105°C.

Bring half a liter of water to a boil, then immerse 50 grams of the aerial parts of the marijuana (roots and seeds are to be avoided). Stir gently for 10 minutes.

Remove the cannabis and drain gently before bringing this decoction back to a boil.

Add the herb again and 250g of butter.

Let cook on low heat for 1 hour.

Filter the whole thing through a cloth and then squeeze the vegetable matter strongly on top of the container in order to extract the maximum of "fatty juice".

Place in the refrigerator for 24 hours.

Once the butter has cooled, it will form a hard layer on the surface of the container. All that remains is to remove the water and enjoy this culinary preparation.
The 5 best CBD cake recipes
While all cake recipes can be made with CBD cannabis by substituting Marrakech butter for regular butter, some lend themselves more to this cannabic product than others. As finally all is a matter of taste, one can hardly speak about "best" recipe. However, some classics remain unchallenged:
brownies

cookies

Chocolate fondant

pancakes

classic cake
For the most timid of you who would not dare to launch into a culinary improvisation with cannabis, we propose you an easy and delicious recipe, that of the space fondant with chocolate:
Preheat the oven to 180°C

In a saucepan, melt 200 grams of chocolate and 100 grams of Marrakech butter cut into pieces over very low heat.

In a bowl, add 100 grams of sugar, 3 eggs and 50 grams of flour. Mix it all together

Add the melted chocolate and butter and mix

In a buttered pan, pour the preparation and bake for 20 minutes

Once out of the oven, let the cake cool, turn out, enjoy and let yourself go!
With a good coffee, a relaxing herbal tea or at a special party, CBD cakes lend themselves to all kinds of moments. They bring a touch of originality thanks to their unusual taste and their effects conducive to well-being.
The cannabis cake without butter
For several reasons (dietetic, ethical, allergic, gustatory, …), it is possible to prepare a space cake without butter. If you are allergic to cow's milk proteins or if you are vegan (without eggs or animal fat), it is possible to make a margarine with cannabis. It will perfectly replace the butter in a classic recipe. It is also possible to make a cake directly with crumbled weed flowers and leaves as ingredients.
For example, the vanilla and chocolate marble cake:
Preheat oven to 180°C

Whip 150 grams of vegetable yogurt with vanilla with 100 grams of sugar

Melt 90g of margarine (Marrakech or not) and add 60ml of almond milk

Add to the mixture 200g of spelt flour, 100g of small spelt flour and 1.5 sachets of yeast

If the margarine used is not cannabis, add a few grams of crumbled and decarboxylated herb by cooking (dosage according to the desired effects)

Divide the resulting dough in 2

In the first dough, mix a teaspoon of vanilla powder

In the second dough, add 1 tablespoon of pure cocoa, 50g of chocolate chips and 2 tablespoons of vegetable almond milk.

Oil a cake pan

Gently pour the pasta, alternating vanilla and chocolate

Bake for an hour or so until the tip of the knife comes out dry.

Let cool, unmould the cake and enjoy!
If this recipe of space cake is to fall, you can without hesitation let you go to all types of culinary preparations as well salted as sweetened. Don't hesitate to add gourmet ingredients to enhance the taste and effects of CBD.
The cannabis cake, a textbook case!
If one compares the various modes of absorption of cannabis, the ingestion is particularly appreciated for its effects: Longer to be felt, the rise is done gradually. It can then reach an unexpected power. It is therefore strongly advised to start any consumption with a low dosage, then gradually increase the dose if necessary.
For this reason, it seems obvious to never make someone who is not used to its effects eat a cannabis bakery. Forget about birthday parties and other parties for the uninformed public. Also watch out for kids who like to lick the bowls and crumb-sucking animals!
Apart from these obvious indications, no special knowledge is required to make a CBD cake. On the other hand, some practices may be relevant:
the preliminary decarboxylation of cannabis despite a recipe with cooking

the dosage of the herb according to the effects and needs

the variety of cannabis used (its organoleptic properties, its CBD content)
To conclude…
If the diversity available in France of CBD products is increasing in recent years, it is not for nothing. Indeed, each consumer will be more or less sensitive to one type rather than another. If hemp flowers remain by far the main product, smoking them is a bad idea. On the one hand because the nicotine present in a joint has antagonistic effects with those of the CBD and on the other hand because the combustion is harmful to health. Making a space cake is an interesting consumption option for different reasons. From a gustatory point of view, a variety of cannabis will be able to bring its small more (fruity, hot, spicy,?) and on the sensory level, the cooking necessary for the confection of a space cake will take part in the extraction and thus in a better absorption of the active principles (CBD) of this variety of weed.
Our online store, Bistrot CBD, offers in delivery in all France, many
varieties of hemp CBD
with pronounced and varied tastes, ideal to be inhaled, drunk and cooked.
FAQ : CBD and cooking
[sp_easyaccordion id="9765″]