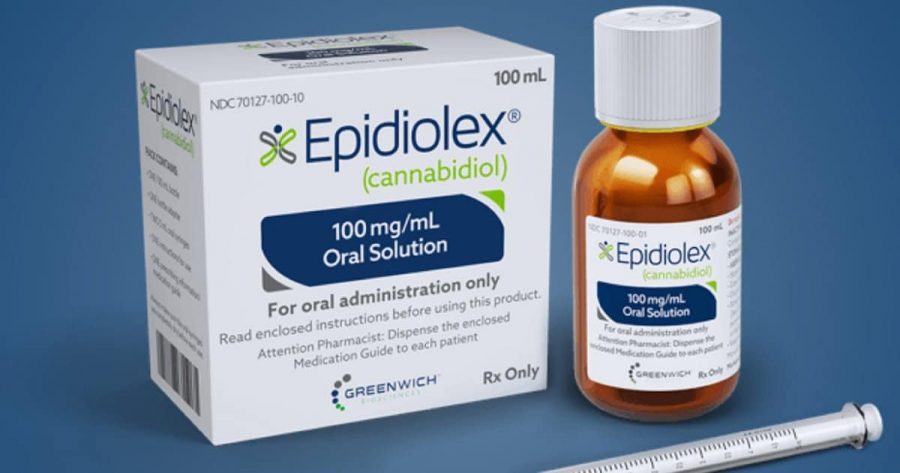 Epidiolex, a proven cannabis treatment
Epidyolex (or epidiolex), is a drinkable solution. It is made from cannabidiol (CBD), the natural cannabinoid in cannabis. It has a medical referential function to encourage the reduction of the frequency and intensity of certain epileptic seizures. This drug was prescribed for a long time with a temporary nominative use authorization in Europe. However, today the European Commission has authorized its permanent marketing authorization (MA).
Epidiolex, composition of this CBD drug
Epidiolex is a viscous oral solution containing CBD (100mg per mL) as the main active ingredient. The latter is dissolved in sesame oil, ethanol, a sweetener and a flavouring agent (strawberry). This active ingredient comes from the plantations of legal varieties of cannabis (1) strongly dosed in CBD of the British company GW Pharmaceuticals.
Epidiolex in France
In spite of the information reported by scientific studies or research on certain benefits of cannabis, its legalization is not at all on the agenda (less and less European specialty and more and more French!!!). The legal use of a drug such as GW Pharmaceuticals' Epidyolex therefore raises questions.
The sale and purchase of branded products containing CBD has exploded legally in recent years. If this type of trade flirted with the legal uncertainty that this molecule encountered at the time, today we see it more clearly. Indeed, on November 19, 2021, the Court of Justice of the European Union (CJEU) declared illegal the ban on the marketing of cannabidiol (CBD) products on French territory.
CBD is a cannabinoid naturally present in hemp. It has anti-vomiting, anti-inflammatory, antioxidant, anticonvulsant, antipsychotic, anxiolytic (relaxing properties). Unlike cannabis' most well-known and controversial cannabinoid, THC (tetrahydrocannabinol), CBD (cannabidiol) does not cause psychoactive and addictive effects. This molecule does not belong to the list of narcotic substances of the decree of February 22, 1990 (2). Its consumption is therefore legal in France.
Since December 2018, the French National Agency for the Safety of Medicines and Health Products (ANSM) has authorized epidyolex (or epidiolex) on exceptional medical prescription, with increased monitoring. Thus, it ensured that its use was imperatively subject to a temporary authorization of use (ATU) limited to 3 weeks. But, on September 19, 2019, this treatment received a valid MA throughout the European Union (3). It then paved the way for the launch of the drug in all the countries concerned.
Epidiolex: a CBD drug for epilepsy
Epidiolex is an anti-epileptic drug produced by the British company GW Pharmaceuticals. This therapeutic treatment is presented as a drinkable solution and is given to patients aged 2 years and older, in combination with other anti-seizure medications. Its use is particularly relevant in the case of rare diseases such as :


Dravet syndrome

: severe epilepsy of genetic origin in children. It is triggered by fever and is characterized by seizures. This can result in muscle twitching, even to the point of unconsciousness in patients under 1 year of age.

Lennox Gastaut syndrome: progressive epileptic syndrome. It causes tonic and atypical absence seizures and intellectual disability. This disease is particularly complicated to treat effectively.
In order to highlight the positive effects of epidiolex on epileptic patients, 3 clinical trials were conducted:
2 for Lennox Gastaut syndrome

1 for Dravet syndrome
After 14 weeks, the reduction in the percentage of monthly seizures reached :
43.9% in the cannabidiol groups

21.8% in the placebo control groups
This study concludes that an oral solution of cannabidiol (

CBD oil

98% or epidyolex) is an effective adjunctive medication for epileptic seizures:
associated with Lennox Gastaut and Dravet syndromes

and resistant to other pharmaceutical products (4).
Epidiolex and its prescription indications
Patients with Dravet and Lennox Gastaut syndromes are rare. Therefore, the exceptional administration of epidiolex as a therapeutic treatment has earned this medical product the status of "orphan drug".
According to the ANSM, epidiolex will be prescribed if and only if:
– as adjunctive therapy for seizures associated with Lennox Gastaut Syndrome (LGS) or Dravet Syndrome (DS), in combination with clobazam (a benzodiazepine class drug used to treat certain seizure states), in patients 2 years of age and older
– previous treatments fail
– in combination with at least one antiepileptic treatment indicated for Lennox Gastaut syndrome (such as valproate, felbamate, lamotrigine, rufinamide, topiramate) or Dravet syndrome (such as stiripentol)
– in the absence of proven or suspected hypersensitivity to the active compounds of cannabis such as CBD and THC.
Opinions on epidiolex
The Commission of the High Authority of Health made public on May 18, 2020 its report on epidiolex (medication essentially with CBD oil) as a therapeutic complement to clobazam (anti-seizure medication). It then gives a favorable opinion to the reimbursement of this medical treatment if it is prescribed for :
reduce seizures associated with Lennox Gastaut (LGS) or Dravet (DS) syndrome

and in patients older than 2 years (5)
On the one hand, many scientific studies demonstrate the effectiveness of CBD treatment (CBD flowers or other products) on certain epileptic seizures that are resistant to other drug molecules. On the other hand, they put forward its anti-inflammatory, anxiolytic properties, etc. If we take into account the absence (or the little) of side effects of this molecule extracted from cannabis and thefavorable opinion of the HAS, we note a remarkable progress the recognition of the therapeutic potential of CBD.
In order to offer the best of cannabis, our online shop offers products with a high CBD content and a variety of flavors. Come and discover our organic fullspectrum oils and our CBD hemp flower varieties. Push the door of the

Bistro

and let yourself be tempted…
References: